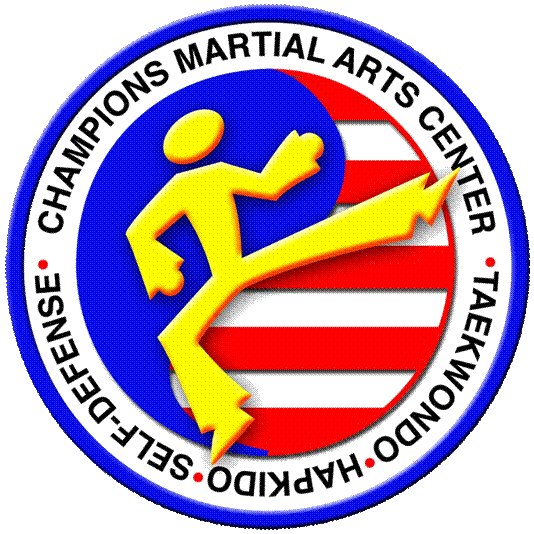 It's a great time to be a CHAMPION!
CHAMPIONS MARTIAL ARTS CENTER
-SERVING JOHNSON COUNTY FAMILIES SINCE 1998 - Longest running training center in the metro!!




- FAMILY ORIENTED TAE KWON DO, KARATE, MARTIAL ARTS, HAPKIDO, & SELF-DEFENSE LESSONS -

!! WE ARE OPEN FOR CLASSES - CLICK

HERE

FOR THE CURRENT

SCHEDULE

!!
Address: 10390 Mastin, Overland Park, KS 66212

, Phone: 913-341-1400
Champions Martial Arts Center

- Online "Tour"
Champions Martial Arts Center was established in 1998, proudly serving the Johnson County metro
area for over 15 years. We are proud to feature the regions largest, state-of-the art training academy.
Welcome. Champions Martial Arts Center is conveniently located at 103rd street and 69 HWY in Overland Park (next to McDonalds). The center is immediately east of the 69HWY exit ramp for easy, quick access from anyplace in the metro.
Contact us to schedule your first lesson -
It's FREE!
CMAC provides the largest training facility in the Midwest. Our training floor contains the same matted surface used in the Olympic Games. Our huge training floor and 18' ceiling provides plenty of "elbow room" for our classes! Training equipment is state-of-the-art and available for students during workouts.
We feature an upper-deck running track, viewing deck and weight training area...the only one anywhere. Cool!
A "bird's eye view" of the training floor from our upper viewing deck. The running track is approximatiely 1/25 mile. The deck also contain strength training equipment available to students age 14 and older.
CMAC's large lobby and viewing area. Parents and spectators are welcome to observe the class in progress.
For your convenience, CMAC provides large men's and women's locker rooms.