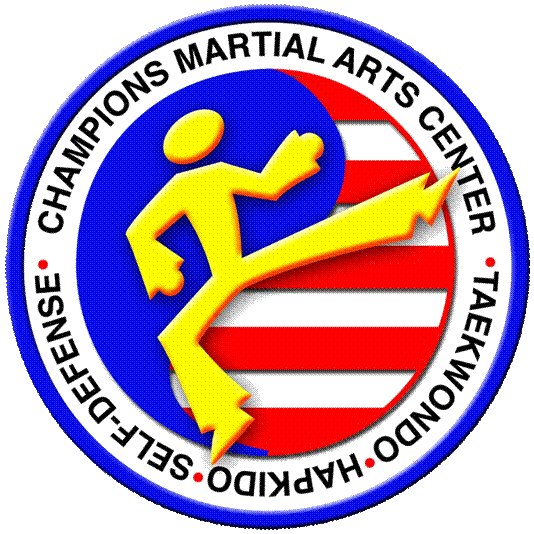 It's a great time to be a CHAMPION!
CHAMPIONS MARTIAL ARTS CENTER
-SERVING JOHNSON COUNTY FAMILIES SINCE 1998 - Longest running training center in the metro!!




- FAMILY ORIENTED TAE KWON DO, KARATE, MARTIAL ARTS, HAPKIDO, & SELF-DEFENSE LESSONS -

!! WE ARE OPEN FOR CLASSES - CLICK

HERE

FOR THE CURRENT

SCHEDULE

!!
Address: 10390 Mastin, Overland Park, KS 66212

, Phone: 913-341-1400
Tae Kwon Do
​A dynamic martial art with origins from ancient Korea. Taekwondo is suitable for everyone...regardless of age, or physical ability. Our classes are fun, energizing and a great workout. You'll progress at your own pace. We have a flexible schedule to meet your busy lifestyle. Our TKD curriculum is super fun, safe, easy to learn, and grounded in traditional self-defense.
​
​Adults: If you're looking to lose a little weight, get back in shape, gain flexibility and reduce stress, then TKD is for you. You will also learn real-world, practical self-defense skills.​
​​
Kids: TKD provides a structured way to teach goal-setting, respect, self-confidence and patience. Kids are exposed to vigorous exercise each class and encouraged to make exercise a daily part of their routine.
​
Your first lesson is FREE. Contact us today and get started.
Childrens' TaeKwonDo classes ages 5+
Our chlidren's program features a specially designed curricullum for elementary school-age students (Ages 5-11).
​
Children are exposed to the skills of TaeKwonDo in a safe and fun setting. Techniques are taught to each child's learning curve. Your son or daugher will progress at their own pace. They are encouraged to learn respect for parents, siblings, and others. Goal setting is a primary tenet of martial arts and will assist with academic success. Children also build confidence and self-control, develop coordination and improve agility.
Contact us today and schedule your FREE complimentary first lesson.
Hapkido
At CMAC, our Hapkido lessons are rooted in real-world, close quarters, self-defense training.
​
Energy redirection and balance are preferred over brute force making this martial art suitable for anyone...regardless of size or physical strength. You'll learn holds, locks, throws and other techniques in HKD training. Classes are fun, conducted in a relaxed setting & designed for teens / adults only.
CMAC offer the ONLY complete HKD curricullum in the metro area. Contact us to schedule a FREE complimentary first lesson.

Competition Team
Join our AWESOME Competition Team! Tournaments are open to all students. Divisions are available for all ages and experience levels. Tournament competition training is a ton of fun, great exercise, encourages sportsmanship, dedication, and team work in a safe and structured environment. Team members will have the opportunity to compete at the local, state and national levels. Who knows? Maybe you'll bring home the "gold"!
Team CMAC is the 5X N.A.S.T.A. Team National Champs (2014 - 2018). Our awesome team has captured the Point Sparring National Title for 5 years running. Several of our athletes earned appointments to the N.A.S.T.A. National competition team. You could be our next Champion!! Contact us today for more info.
Additional Training : Filipino Martial Arts, Jiu Jitsu, Weapons and more...
On a seasonal basis: CMAC also offers additional training in several other martial arts disciplines including:
​
- Ground Grappling / Jiu Jitsu​
- Filipino Martial Arts - "Arnis" / "Escrima" stick training
- Traditonal Weapons
- Check out the "MEMBERS" page for class details.
​​(As some classes are seasonal, contact us for scheduling and availability)