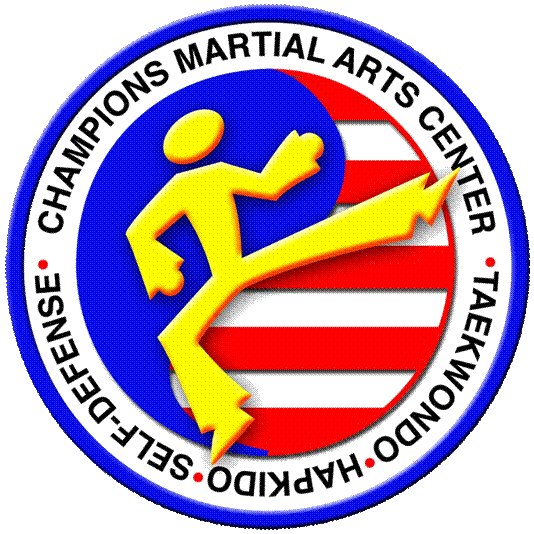 It's a great time to be a CHAMPION!
CHAMPIONS MARTIAL ARTS CENTER
-SERVING JOHNSON COUNTY FAMILIES SINCE 1998 - Longest running training center in the metro!!




- FAMILY ORIENTED TAE KWON DO, KARATE, MARTIAL ARTS, HAPKIDO, & SELF-DEFENSE LESSONS -

!! WE ARE OPEN FOR CLASSES - CLICK

HERE

FOR THE CURRENT

SCHEDULE

!!
Address: 10390 Mastin, Overland Park, KS 66212

, Phone: 913-341-1400
Below are YouTube links for the color belt forms required for advancement. These will help you when training outside of class . Pay attention when you practice. If you copy the videos from the front view, you will learn the techniques backwards! Class time is still necessary for rank advancement.
White to Yellow - Kicho Click HERE
Yellow to Orange - Taegeuk Il Jang. Click HERE
Orange to Green - Taegeuk Yi Jang Click HERE
Green to Purple Taegeuk Sam Jang Click HERE
Purple to Blue Taegeuk Sah Jang Click HERE
Blue to Brown Taegeuk Oh Jang Click HERE
Brown to Red Taegeuk Yook Jang Click HERE
Red to Blk Stripe Taegeuk Chil Jang Click HERE
Blk Stripe to Rec. Black Taegeuk Pal Jang Click HERE
1st Dan Black Koryo Click HERE
2nd Dan Black Keumgang Click HERE
3rd Dan Black Taebaek Click HERE
4th Dan Black Pyeongwon Click HERE
​
​
I.T.F. Black Belt Hyung - Click HERE
​
​