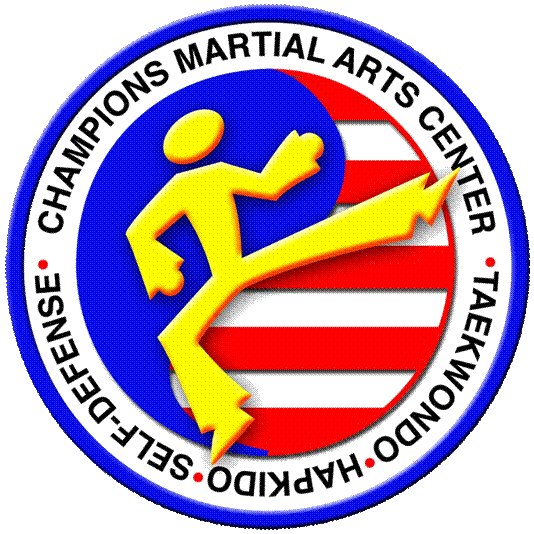 It's a great time to be a CHAMPION!
CHAMPIONS MARTIAL ARTS CENTER
-SERVING JOHNSON COUNTY FAMILIES SINCE 1998 - Longest running training center in the metro!!
- FAMILY ORIENTED TAE KWON DO, KARATE, MARTIAL ARTS, HAPKIDO, & SELF-DEFENSE LESSONS -

!! WE ARE OPEN FOR CLASSES - CLICK

HERE

FOR THE CURRENT

SCHEDULE

!!
Address: 10390 Mastin, Overland Park, KS 66212

, Phone: 913-341-1400
Recognizing years of hard work, dedication and loyalty to martial arts excellence...
​​
BLACK BELT RECIPIENTS BY YEAR EARNED:
2001
Gerry Dunham
Sarah Dunham
James Dunham
​
2002
Marla Wiedenmann
Brendan Harris
Cody Ketzner
Jeffrey Kudlacik
Connor Carollo
Brad Elpers
Pat Ronan
James Becker
Jack Rost
Evan Marcano
​
2003
Mark Desordi
Cole Turner
Brad Elpers - Hapkido
Danny Dodge - Hapkido
Tony Roush - TKD/HKD
Brad Kalush
Nancy Elpers
Kalim Kazmi
Harrison Kalush
Marcus Woods
Abraham Ali
Josh Bucher
Ritvik Bansal
Emily Simpson
Brandon Glass
​
2004
Madison Kalush
Aaron DeSordi
Cameron DeSordi
Rachit Bansal
Kathy DeSordi
Paul Bruegger
Grant Auer
Lisa Auer
Madison Elpers
Rylee Goodson
Jaci DeSordi
Lekeisha Terrell
2005
Corissa Pate
Joseph Goeke
Eric Wilson
Joe Erbacher
Grace Wilson
Jamie Lacy
​
2006
Lea Johnson
Neil Johnson
Aidan Johnson
Marianne Curtis
Greg Woodhams
Garrett Ford
Emily Niederbremer
Anthony Miller
Jesus Cordero
John Erbacher
Jared Kullberg
Derek Parsons
Armando Tiger - HKD
Brandon Glass - TKD/HKD
Brandon Zerbe - HKD
​
​
2007
Jennifer Goodson
Tegan Goodson
Devin Attaluri
Tim Moore
Sean Novak
Benjamin Urschel
Marlena Birkel
Brenen Prinzing
Kasha Prinzing
Jeri Ann Freirich
Jay Harden
Paul Taulborg
Cathan Prinzing
Connor Stewart
Jeremiah Taulborg
Adam Winney
Andrew Winney
Sean Michael - HKD/TKD
Karen Virgilito - Honorary
Dennis Giles - Honorary
Jeff Kolchinsky - Honorary
2008​​
Zachary Wiedenmann
Owen Swanberg
Carol Morris
Kevin Morris
Michael Morris
Brock Holmes
Jared Ayers
Michael Parsons
Jack Curtis
Scott Curtis
Frances Wilson
Seth Kovel - HKD
Megan Coovert - TKD/HKD
Ian Hakes
Andy Herrmann
Noah Birkel
Drew Hubbel
​
​2009
Kevin Underwood
Bill Goodson - HKD
Ryan Smith
Andrea Ayers
Luke Wiedenmann
​
2010
Klaas Doeden
Kristen Ely
Lydia Weaver
Daniel Aks
Emma Bunde
Stephanie Coovert
Stephen Tafoya
Dominic Vergara
Graeme Lindsey
Jonathan Melau
​
​
​
2011
Ben Curtis
Bennett Johnson
Dylan Klemmer
Dalila Hermosillo Viegas
Jocelyne Trujillo Mendoza
Quinn Lindsey
Russ Weaver
Don "Rick" Rush - HKD
Anthony Randazzo
Logan Miller
Zack Montgomery
Anasthsia Chaplin
Marc Chaplin
2012​
Ulises Trujillo Huerta
Joanna H. Montgomery
Kaleb Barbee
Samantha Ashby
Kadence Jacklyn Duffey
Eric Ober
Nicholas Monks
Colin Ashby
Eddie Dai
Samuel Slaven
Greg Nohalty-HKD
​
2013
Caleb Hopkins
Andrea L. Smith
Ryan Michael Gellings
Charlie Hanson
Trenton Wayne Peterson
Jackson Sherwood
Aidan Aranda
Andrew Mellor
Brett Meyers
Joseph Lipoff
Akhil Dasika
Spencer Riggs
Rori Hornung
Kylie Martin
Emmitt Brooks
Alexis Monks
Collin Montgomery
​
2014
Brooke Mertz
Gunnar Hornung
Laura Gascogne
Callie Schluben
Morgan Roberts
Alexa Magstadt
R. Alex Pavlu
Preya Nguyen
Eric Raven
Connor Monks
Johana Escudero Venacio
Ruslan Santos
John David Fischbach
Gabriel Romero
Eliann Romero
Nicholas Gardner
Eliot Fyffe
Samantha Hale
​
​​
​
​
​
2015
Carter Hale
Matthew Pham
Braeden Forrester
Adam Johnson
​
Master A. Tiger -HKD
Master M. Coovert Hogan - HKD
Master A. Roush - HKD
​
2016
Duncan A. Mertz
Vikram Nguyen
Ishya Bhavsar
Barbara Mertz
Jacob Conrad
Amy Magstadt
Will Fogel
Elandaloussi M. Faouzi
Eleni Jouras
Lily Ren
​
2017
Nachman White
Will Jonasson
Gabriel Redick
​
2018
Master Ulises Trujillo Huerta
Master Zach Wiedenmann
Master Ryan Smith
​
Aaron Bartlett
Abhi Gupta
Daniel Turner
Will Herndon
Henry Herndon
Lilly Mohesky
Greta Albrecht
David Magstadt
Michael Todd Gardner
Gabriel Gutierrez
Jared Ayers - HKD
Mary McCain
Wyatt Lake
Alyssa Jackson
Ian Jackson
​
2019
Master Luke Wiedenmann
​
James Sanders
Thomas Lake
Liam Scaduto
Elias Jouras
Gregory Gilliford
Eleni Fotopoulos
Gabriel Jouras
​
2020
Master Jared Ayers
Master Kaleb Barbee
Master Alexa Magstadt
​
Graycen Scaduto
Duncan Childs
Liam Childs
​